Timber homes are built with large timbers that create a timeless look and strong structural support. They eliminate the need for interior load-bearing walls and allow for a variety of external materials to be used.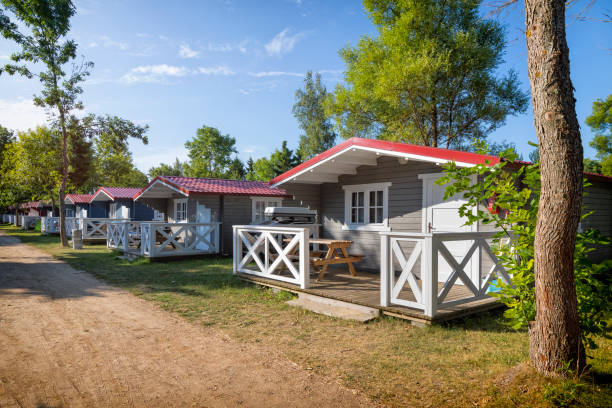 Timber framing is a centuries-old building technique that utilizes mortise and tenon joinery. This technique has been used to build some of the world's most beautiful buildings for centuries.
1. Energy Efficient
Timber homes are an excellent choice for energy efficient homes. They are a great choice for green building because they lower carbon footprints, are more environmentally friendly than steel and concrete and are a better insulator.
They also have a high thermal mass and are capable of storing heat and reducing energy consumption. This quality helps keep the home comfortable all year round, regardless of temperature.
Another aspect of timber framing that can improve energy efficiency is the use of structural insulated panels (SIPs). These SIPs are a simple panel that contains an insulating foam core between two sheets of OSB.
SIPs are a great addition to a timber frame because they complement the strength of the frame by providing additional structure and also provide a superior insulating system. They are easier to install than other insulating systems, require less energy and produce less waste during your build.
2. Aesthetically Pleasing
Timber homes are aesthetically pleasing, and can be styled in a variety of ways. This allows them to fit into any neighborhood and meet the needs of any homeowner.
Unlike conventional construction, which often hides wood inside walls and under sheathing, timber framing features heavy squared-off timbers with joints securely fastened by large wooden pegs. This design goes back thousands of years, and it is a truly unique building method that is very aesthetically pleasing.
The exposed grain of timbers, dramatic open living spaces and detailed hand-crafted joinery all make timber frame homes extremely aesthetically pleasing. This is a great way to create a sustainable and eco-friendly home that will last for generations to come.
3. Eco-Friendly
One of the most important things to consider when building a new home is sustainability. Timber frame homes are often built with sustainable building methods and materials to reduce the amount of energy required to operate and maintain the home over its lifetime.
In contrast, conventional building techniques such as concrete and steel use more energy to manufacture and build a house. They also contribute to greenhouse gases that cause global warming.
Wood, on the other hand, is naturally renewable and doesn't release toxic materials into the atmosphere, making it an environmentally-friendly material.
Wood is also naturally insulating, reducing the need for air conditioners and heating systems. Moreover, it stores carbons and regulates humidity to make your home healthier and more comfortable.
4. Customization
Customization allows you to truly create a unique home that reflects your taste and lifestyle. Timber frame homes allow for a huge range of design options, from cozy rooms to open vaulted spaces with large window walls that bathe the interior in gorgeous natural light.
Unlike traditional stick built houses, a timber frame home uses a framework of oversized posts and beams that are joined together with pegs or other decorative joinery. This centuries-old technique creates a robust structure that can stand up to harsh weather conditions and still be beautiful.
In addition, many builders use Structural Insulated Panels (SIPs) to fill between the timber frame and exterior siding. This creates a home that is energy efficient and easy to maintain. It reduces air infiltration, allowing for more comfort and lower heating and cooling costs.